YCH Interview Series
Coach TJ Manastersky Interview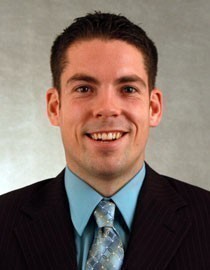 TJ Manastersky
Head Hockey Coach
Curry College
1. What is the most difficult part being a first year head coach at a new school?
Learning to manage all the diverse job responsibilities such as scheduling, budgets, equipment orders, etc. The hockey stuff is the easy part!
2. What does a typical day consist of for a head coach?
Keep up with emails and phone calls from colleagues on campus, recruiting calls, practice planning, planning the direction of the program, communicating with assistant coaches and more. The interesting thing about being a Head Coach is there is no typical day, it is fast paced and always something new to focus on.
3. How has the transition from assistant coach to head coach been? What difficulties have you experienced?
The biggest challenge so far has been to express my expectations to the players because we are limited with contact hours by the NCAA. As a new coach there is a new direction and the players will take some time to adapt.
4. What do you look for in an individual while you are recruiting them?
On the ice I look for players who compete in all situations and who have great hockey sense. Off the ice, I work to find players with tremendous character and leaders.
5. How does the coaching staff deal with the demands from the players (Ex: More ice time, Powerplay time) ?
It is crucial to communicate roles and expectations to players so that they can feel pride in their place on the team. Not everyone can play on the PP, but everyone can help the team win. If a player is deficient in a certain area that is preventing them from being on the ice as much as they would like, our job as coaches is to work with that individual to improve the necessary skills.
6. Do you look for only talent while scouting, or do you look more for a players work ethic and body language throughout a game?
Body language is big for me. Negative body language and outbursts are a pet peeve of mine. Work ethic and the willingness to compete is the single most important piece in my recruiting. Anybody can find the most skilled players, but I am looking for more than that.
7. Does how a player dress outside of the rink matter to a coaching staff?
How you present yourself is always important no matter what sport you play or industry you work in. If you want to be taken seriously then you should start by dressing the part. Carry yourself with respect and professionalism and people will see you that way.
8. How does a coaching staff deal with parents who are becoming too involved?
Parents are part of sports because they care so much about their son or daughter. I believe parents are integral in the happiness of my players and I always have time to talk with them when it comes to discussing their child and how they are doing. However, my decisions in terms of ice time is not a conversation that I have with parents.
9. TJ Manastersky, do you have any advice for an aspiring coach?
Do things the right way and work harder than the next guy. Be loyal to the program and your head coach and you will always find the next opportunity.

You can learn more about Coach TJ Manastersky and his team at Curry College Colonels


TJ Manastersky

---
 Return from TJ Manastersky Interview to Your College Hockey Home
Return from TJ Manastersky Interview to Your College Hockey Interview Series

---